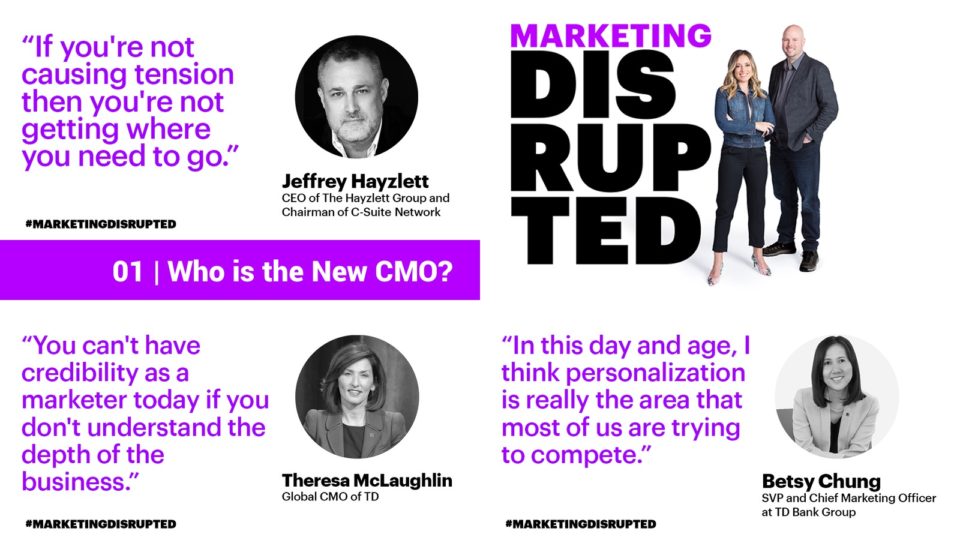 Marketing Disrupted 01: Who is the new CMO?
by Amber Mac on June 17, 2019
In this inaugural episode, some of the giants of the industry talk to Brent and Amber about the changing face of marketing and the new responsibilities of CMOs: to evolve and adapt to ever-shifting marketing models. Jeffrey Hayzlett, CEO of The Hayzlett Group and Chairman of C-Suite Network, discusses why the main role of the modern CMO is to "deliver on promises made" if they're going to create exceptional customer experiences.
Betsey Chung, SVP and Chief Marketing Officer at TD Bank Group, talks about how TD keeps up with the digital and technological evolution that seems to change the game on a daily basis. Plus, a feature interview with Theresa McLaughlin, Global CMO of TD, who talks about why—despite the importance of data and the explosion of technology—she still believes her main job is to be the company's chief storyteller.
Listen to this episode below or on:  Apple Podcasts  |  Google Play  |  Stitcher