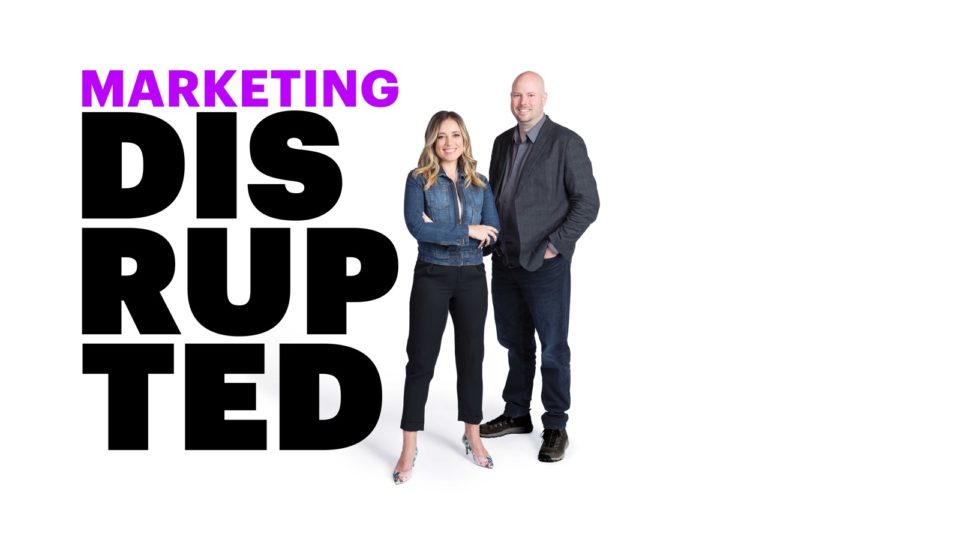 Marketing Disrupted
by Amber Mac on June 17, 2019
My new podcast series with Brent Chaters explores the evolving demands for CMOs and their organizations to thrive in the age of digital disruption. Below are the episodes so far and you can find more details on Accenture's page for the podcast and subscribe on iTunes or on Google Play or Stitcher.
01 | Who is the New CMO?

The changing face of marketing and the new responsibilities of CMOs. Jeffrey Hayzlett, CEO of The Hayzlett Group on why the main role of the modern CMO is to 'deliver on promises made'. Betsey Chung, from TD Canadian Banking, talks about how the bank is keeping up with the digital and technological evolution. And a feature interview with Theresa McLaughlin, Global CMO of TD bank, about why she believes her main job is to be the company's chief storyteller.
Listen To Marketing Disrupted 01 Here
02 | Balancing Data & Desire

Justin De Graaf, Head of Ads Research and Insights at Google, on how the tech giant drives the global economy and how marketers should best use Google. Also lawyer and privacy expert, Éloïse Gratton, Sara Clodman, from the Canadian Marketing Association and Loni Stark, from Adobe, about how to find the balance between consumers' desires and digital security.
Listen To Marketing Disrupted 02 Here
03 | Brands Online: Marketing, Tech & Social Media

A feature interview with Lara Skripitsky, V. P. & Chief Technology Officer at McDonald's Restaurants of Canada and all the ways technology and digital tools are helping the world's most iconic brand enhance its customer experience. And Diana Helander, Head of Marketing for the Twitter Developer Platform, about solving customers' problems on social media.
Listen To Marketing Disrupted 03 Here
04 | The Art & Science of Marketing & Gaming

Brent and Amber talk to Randy Weyersberg, V.P., Ontario Lottery and Gaming Enterprise Brand and Marketing about why OLG is betting big on technology, and sports relationships to attract the under 35 set. And Jeremiah Owyang, Founder & Partner of Kaleido Insights, about new types of data that can help measure consumer interest in real time.
Listen To Marketing Disrupted 04 Here
05 | Walking the Walk

Brent and Amber talk to Brian Solis, author, speaker from Altimeter Group, about Corporate Social Responsibility and the role it plays in reinforcing brand purpose. And Michael Masserman, Head of Global Social Impact at Lyft, about why improving lives is as important to his company as the bottom line. And Alexander Lvovich, Managing Director at Volvo Car Canada, on why it's important that his company takes ethical stances on hard issues.
Listen To Marketing Disrupted 05 Here
06 | The Little Companies That Could

Brent and Amber speak with Christopher Riccobono and Aaron Sanandres, from UNTUCKit, about the spark of inspiration behind their idea, and why the shirt company is part of a new wave of consumer disruption brands. They also talk to Arati Sharma, Director of Product and Offline Marketing at Shopify, about how the e-commerce giant grew so big, so fast, but still remains hands on with its customers.
Listen To Marketing Disrupted 06 Here
07 | What Does It All Mean?

In the final episode of Marketing Disrupted, Amber and Brent talk to Guy Kawasaki, marketing guru and ex-Apple executive about what he learned working at Apple, and what he thinks are the best practices for marketers today. And Jeffrey Hayzlett, CEO of The Hayzlett Group and Chairman of C-Suite Network, and Brian Solis, author, speaker and Principal Analyst at Altimeter Group on what CMOs need to do differently to make it in today's disruptive market.